Bloom Consulting is once again a data partner for the World Economic Forum's (WEF) Travel & Tourism Competitiveness Report (TTCR), a biannual "strategic benchmarking tool" that measures a broad range of tourism and travel related indicators and policies of over 100 countries.
The report, to be published early 2022, is also an index that gives economies an overall score on where they rank against other countries and regions. In addition, the index measures any changes in the positions, compared with previous years. This helps countries measure whether or not tourism strategies are working.
The TTCR is part of the Platform for Shaping the Future of Mobility, a WEF initiative that aims to accelerate the global transition to safer, cleaner and more inclusive transportation systems, including in an evolving tourism and travel industry.
Impact of the pandemic on tourism and travel
The last two years have seen considerable change and loss in the industry. Despite the gradual recovery, the sector is set to lose a further $2 trillion (€1.78 trillion) in revenues world wide in 2021, the same amongst lost in 2020, according to a recent United Nations report.
Whilst the industry has began to recover from the Covid-19 pandemic, it is not immune to shocks and sets backs. Changing government policies, new rules on vaccinations and quarantines, and the discovery of new mutations continue to impact the full recovery of the industry – as evidenced by the economic impact in 2021, two years on from the beginning of the pandemic.
It is likely therefore, that the report may take into consideration a multitude of aspects, including the pandemic's impact on tourism, as well as governance and sustainability.
Many in the industry are already describing these shift in values as the "Great Reset of Tourism", hence TTCR benchmarking reports may place a greater emphasis on future focused criteria such as these.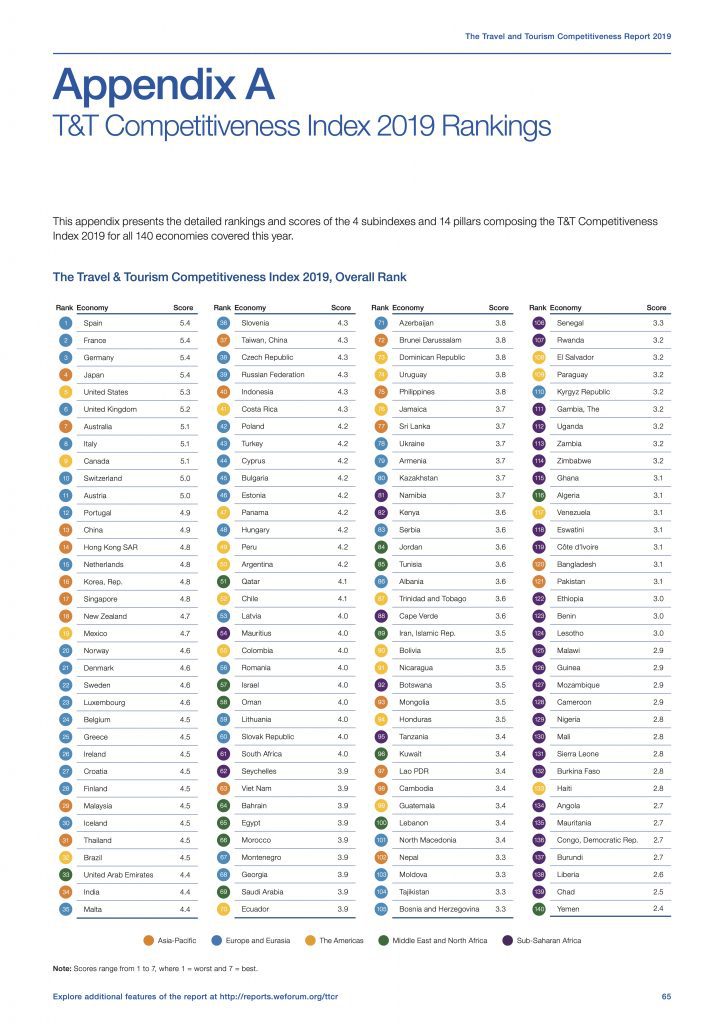 How is the TTCR index organised?
The index is a cross-country comparative tool which gives extensive insights into how a country is performing in relation to tourism and travel competitiveness.
The WEF says the index "serves as a strategic benchmarking tool for policy-makers, companies and complementary sectors to advance the future development of T&T. It also serves as a platform for multi-stakeholder dialogue to understand and anticipate emerging trends, adapt their policies, practices and investment decisions, and accelerate new models".
To collect and analyse this data, the index is organised into four subindexes including Enabling Environment, T&T Policy and Enabling Conditions, Infrastructure and Natural and Cultural Resources. Under the subindexes sit 14 more specific pillars.
The measurement framework could be updated this year to reflect changing priorities in the industry.
Resilience, for example, which is the ability of a destination to cope with disruptive shocks such as an outbreak, a new strain of the virus or changing government regulations; sustainability, to what extent are destinations investing in sustainable tourism, including ecotourism; and safety – is a place considered hygienic and safe?
Bloom Consulting's role
Bloom Consulting is part of the Advisory Group for the Travel and Tourism Competitiveness Index 2021 and together with it's intelligence company, D2 – Analytics is one of the international official data partners for the report.
Statistical data makes up two-thirds of the dataset in the report, the other third comes from a qualitative analysis from the World Economic Forum's annual Executive Opinion Survey. Other international data partners for this report include the International Air Transport Association, World Travel & Tourism Council, the World Tourism Organization, and others
Bloom Consulting provided data using its Bloom Consulting Country Brand Ranking © and D2 – Digital Demand © that together measure the effectiveness of a Country's Brand.
Bloom Consulting has been providing Nation Brand consulting and providing analytics and measurement about countries, regions and cities since 2003 and is proud to share its intelligence with the WEF since 2015
"Anyone invested and involved in tourism and travel should read the CBR report and the WEF report soon to be released. It provides insightful information on which countries are performing well, and why. It details where countries sit within a ranking index, thus provides concrete evidence on what policies and strategies are working. We hope the insights provided from our CBR and Digital Demand tools helps paint a vivid picture of the strengths and weaknesses of economies," Bloom Consulting said.
The 2021 WEF's Travel & Tourism Competitiveness Report will be published early 2022.