Bloom Consulting Country Brand Ranking Trade and Tourism 2022 | 2023 editions are now live. The reports will be useful to national tourism organizations (NTO) and investment promotion agencies (IPA), as well as other stakeholders involved in the management and activation of Nation Brands.
Use the Country Brand Ranking to Your Advantage
So, how can you use the Country Brand Ranking to adjust or shape your brand strategy and action plan for attracting tourism and investment?
First and foremost, the Bloom Consulting Country Brand Rankings serve as a benchmark. Produced biannually, the reports provide an objective perspective on the performance of Nation Brands over time. The results reveal how countries' current and past actions, activities and policies or even external events have impacted tourism and trade. The World Economic Forum uses our data, and the World Bank recommends it. But a place also needs to be relevant to stakeholders, and what better to illustrate relevance in today's world than a place's Digital Identity?
So, in short, the results and insights can help determine routes for improvement by sparking questions, such as "how can I do better?", "why has our Digital Demand fallen?", "how can I improve my Digital Identity?" and similar.
The ranking variables, measuring the tangible impact
Ask questions guided by Bloom Consulting's proprietary algorithm, which we use to compile the rankings. The algorithm considers a country's economic performance, digital appeal, online performance and Country Brand Strategy- CBS Rating ©. Let's take a look at each variable and how they can help guide your work.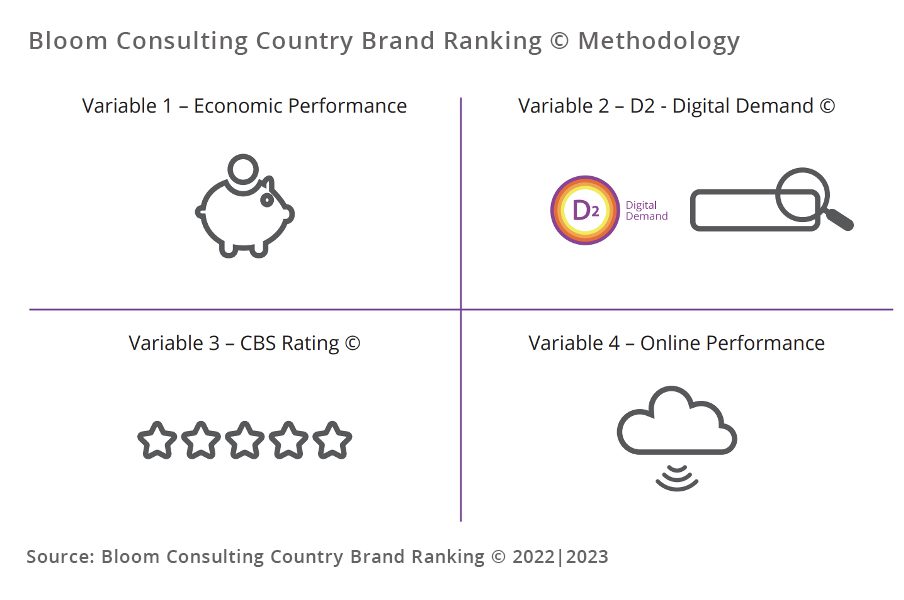 Variable 1: Economic performance
This variable is the tangible economic success of a country's investment and tourism promotion strategies. We calculate the former based on the Net FDI inflows and growth reported by the United Nations Conference on Trade and Development or national IPAs. The higher the Net FDI inflows, the better. The latter is based on international tourism receipts and growth reported by the World Tourism Organization or NTOs.
"Why" is always a good question to start with. In this case, look for the reason behind any fluctuations in your performance. Why have you done better or worse? Could it be because of Covid-19, policies, or some other reason? If there has been a dip, is it sudden or an ongoing downhill trend? What actions can you take in future to mitigate the damage and increase touristic demand or investor appeal? Likewise, if you have done better, why is this? Which actions lead to growth and can be leveraged again to continue the upward trend?
Variable 2. D2 – Digital Demand ©
Our proprietary software looks at the search volume of common tourist attractions and themes, socio-economic factors and investment-related activities. The more searches reported, the higher the digital appeal.
These are some questions to think about: What can you do to drive Digital Demand? What are tourists and investors searching for? Does your country offer and promote what people are searching for? Are people finding the relevant content?
Variable 3. Country Brand Strategy – CBS Rating ©
In short, this is the alignment of words and action in terms of how an NTO and IPA position a country versus what people actually hear about the country.
If your rating has decreased or stayed put, look at what people are hearing about your country and via what resources? Does this call for reviewing the Country Brand Strategy? Does it imply that you need to improve your communications strategy? Perhaps you need to carry out an audit to identify content gaps and opportunities?
If your rating is up, reflect on the steps you took to get where you are. What is working and could it work again in future?
Variable 4. Online performance
This is the evaluation of a country's online presence. We look at NTO and IPA official website metrics and social media accounts to determine the overall visibility and permeation of the Country Brand.
So, if the Country Brand has low reach, why and what can you do about it? Are the people managing the website and social media accounts aware of the brand and its strategy? Have they been provided the tools, training and information to use it? Can existing content be adapted to reflect the Country Brand or is a complete overhaul called for? These are just some questions to think about.
Managing a Country Brand is a perpetual process
The Bloom Consulting Country Brand Ranking is a valuable resource but it's up to you to use it for the benefit of your brand. May this article serve as an initial guide for interpreting the results and raise important questions! We are always on hand should you wish to delve deeper into the results or need help with improving the performance of your Country Brand.

Download the complete Bloom Consulting Country Brand Ranking 2022|2023