Part 2: Economy, Migration & Government
Meta Trend 4
Government
One of the most vital variables for governments will be the speed at which they operate and can execute decisions. As a civilization, we've surpassed the capacity at which nations and places can maintain the highest level of law and order over all things accessible to their constituents. Digitalization is moving so fast that democracy is not able to keep pace. This is to say that tech and other industries have developed more rapidly than most nation states, opening the door to a world of widely misunderstood tools and information bases with the ability to both help and hurt human development.
Digitalization is moving faster than democracy
Speed as a variable will play a major role in governments' success in the decision-making process
Understanding the potentially harmful effects of digitalization and social tools being implemented without comprehensive legislation from the public sector
Implication for Nation and Place Brands
First impressions last and governments are being put in the spotlight. As we have seen through research and country perception analysis, quick and effective government responses to crises such as COVID-19 have a significant impact on Nation Brands.
The flipside, governments that react slowly and ineffectively are equally as negatively impacted. Bloom Consulting has conducted research into the ratio of positive to negative perceptions in accordance with a conclusive Brand-Nought. This is the red line countries, regions, and cities need to be aware of falling below of exceeding and seeing an impact in perceptions, thus it is an opportunity for governments to win significant occurrences whether local, regional, or global.
One forward-thinking initiative to highlight would be Finland's practice of producing the Government Report on the Future, published by the Prime Minister's Office. Finland's strategy outstrips the here and now and reaches into the future to create solutions before problems have the chance to arise.
Be the first to act, and react
Act decisively and be seen as respectable, trustworthy, and favorable as a Nation and Place Brand
Prepare for the future and establish policy to mitigate impending challenges
The dimensions most affected by this meta trend are Nation and Place Brand appeal for:
Investment
Tourism
Talent
Prominence
Exports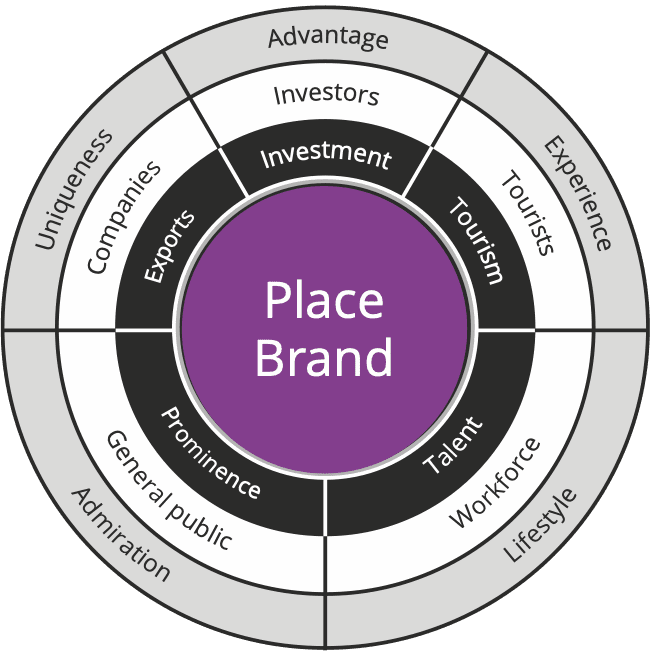 Meta Trend 5
Economy
Economy in this case takes into consideration changes in demographic situations as well as quality of life factors such as cost and taxation. We must understand the fundamental shifts being put into place by globalization and digitalization for migration patterns.
International citizens are undergoing changes in demand and purchasing power by country, region, and city, thus impacting where they choose to live and how to spend their money. Individuals who are given the opportunity to relocate whether through financial means, freedom of travel, or remote work flexibility (work from anywhere), will seek a new quality of life previously inaccessible to most of the global community. Affordability is one critical component for the movement of talent as remote work has become remarkably more feasible. Organizations have adapted to providing their people with the flexibility to perform their day to day at a distance, meaning that at times companies are being run from laptops across the globe.
Economy impacts demographic situations as well as quality life factors
Globalization and digitalization affect current and future migration patterns
Work from anywhere will become increasingly important for Nation and Place Brands in terms of talent appeal and attraction
Implication for Nation and Place Brands
Nations and places have a level of attractiveness based on anticipated quality of life given the expectations and need states of global brand audiences. That said, due to COVID-19, we've seen a shift in offer as well as demand in terms of lifestyle. New York City is competing with Hudson while London now competes with Glasgow, before the two only had to worry about one another in terms of attracting local and international talent to their bustling urban epicenters.
Remote work in the rural setting has become increasingly attractive for various family units seeking a breath of fresh air. That said, countries, regions, and cities are taking this opportunity to develop talent programs geared towards attraction, growth, and retention of local and international talent pools. Tulsa, Oklahoma, USA for example has brought to life the Tulsa Remote program in the United States, incentivizing workers to spend a year in their city. Here we begin to understand and calculate the return on investment for the talent dimension of Nation and Place Branding, asking ourselves what it costs to attract an individual and for how long do they need to stay and spend to make that investment worthy. Nations and places must pay special attention to policies being developed round the globe and destinations implementing programs to attract talent and improve perceptions.
Understand and adapt to remote talent by implementing and/or revamping programs and policies
Look again at your competition because it's changed since the start of COVID-19
Pay special attention to what the world is doing and act/react accordingly
The dimensions most affected by this meta trend are nation and place brand appeal for: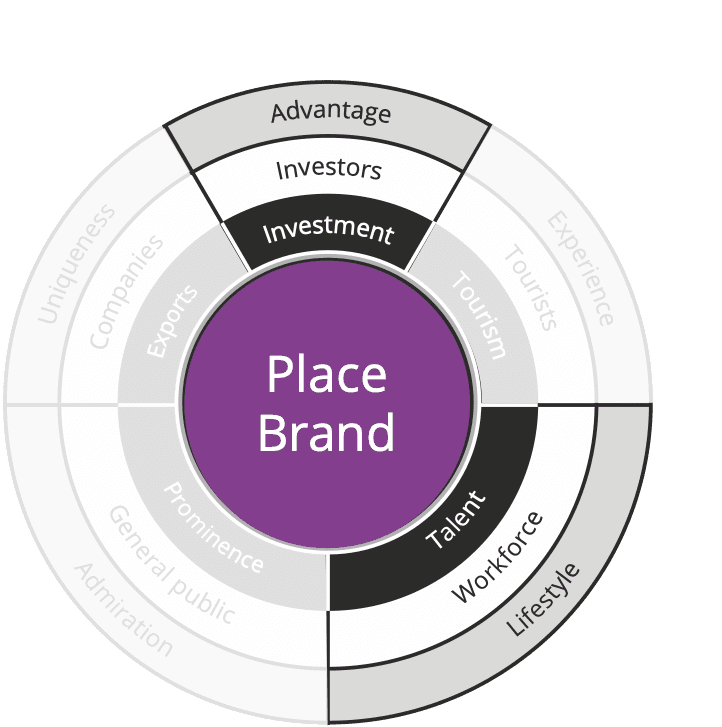 Meta Trend 6
Migration
Migration in this case addresses the ever-present and growing concern for tensions having to do with the reception of immigrants from countries facing their own political, social, and economic adversities. Countries, regions, and cities that are perceived to offer a better quality of life are being sought after by those emigrating from volatile and perhaps unsafe environments. There are two primary groups that have a significant role to play in this meta trend, different social classes, and segmentation by age. Social class addresses for example emerging economies being affected by climate with an unequitable role in its contribution. Meanwhile, age takes into consideration the growing discrepancy in certain countries, regions, and cities wherein populations are increasingly elderly trending and there is an exodus of young talent.
Migration as a meta trend is only going to increase in tangibility and relevance
Tensions will continue to rise between locals and newcomers while governments fail to cooperate and implement a sound system
Social class and age are key factors to the rising problems of migration
Implication for Nation and Place Brands
Nation and Place Brands are one major reason immigrants are seeking specific countries, regions, and cities for asylum. Reputations supersede respective places and stretch to the far reaches, becoming internationally known as safe, economically, and politically stable, with sound education and healthcare systems. As was mentioned, tensions have arisen worldwide due to the reception of immigrants with a lackluster system for integration, resulting in poor conditions for newcomers, and negative perceptions from native citizens. An example described by the World Bank is Turkey and its response to Syrian immigrants. The correspondence notes three key policy questions that should guide the road ahead, one of them being "[how] to maximize the social and economic [benefits] of the refugee presence for host communities and the Turkish economy as a whole".
As this meta trend is only predicted to increase in terms of tangibility and relevance, it will be crucial for nations and places to adopt a sound model for integration. Those who succeed will not only ameliorate human living conditions but also set precedent for the global community. Understanding one's own carrying capacity by country, region, and city, and implementing policy for work, education, and accommodation will be crucial.
Integration in this case is a double-sided scenario wherein newcomers and locals alike will undergo a learning curve as to coexisting. Educating both parties on diversity, equity, and inclusion will be vital to setting expectations and mitigating intrastate tensions. Within the realm of age discrepancies and ranging examples of talent exoduses, this is an opportunity for places to invite, integrate, and professionally incorporate young and eager groups into their displaced workforces. From the Nation and Place Brand perspective, targeting a global humanitarian crisis by way of solving a local problem will prompt a shift in audiences' hearts and minds towards improving perceptions if executed with the proper prioritization of people.
Address nations and places that are susceptible to migratory emergencies and in need of assistance
Develop a plan for immigrant integration including precautions normally taken for sustainable practices such as carrying capacity, local reaction to foreigners, and a code of conduct to minimize agitation
Optimize the global movement of people to address local needs, thinking global and acting local, showcasing a strong Nation and/or Place Brand both at home and abroad
The dimensions most affected by this meta trend are nation and place brand appeal for: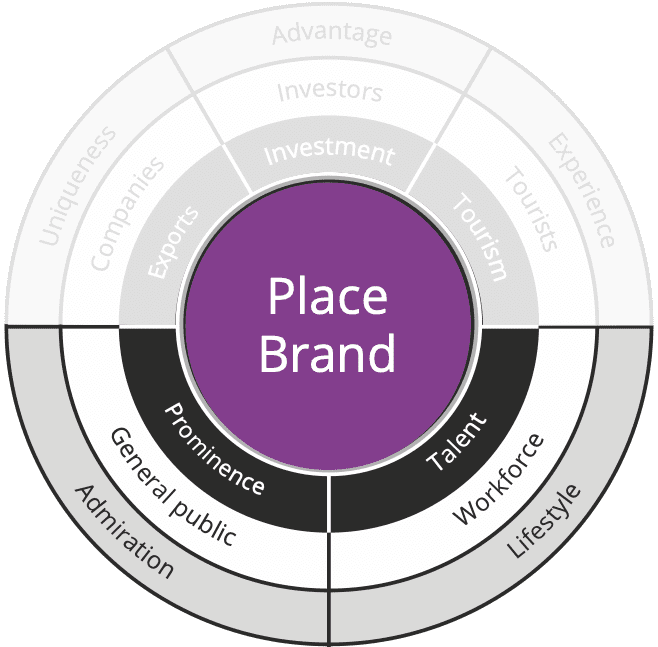 This is the second edition of a three-part series. We look forward to sharing the following meta trends in the third edition: pandemic, and the next big thing.
Part 1: Health, Conflict & Climate Change
Part 3: Pandemic & the next big thing
To view and download the final report, click here