Bloom Consulting carried out two global and independent studies with sister company, D2-Analytics, on the impact of the Covid-19 pandemic on Nation Brands and destinations.
This article is about the study on the Covid-19 crisis impact on tourist behaviours and it includes the study's main conclusions and necessary recommendations for Destination Marketing Organizations (DMO) and destinations around the world.
Tourism was one of the dimensions most affected by the pandemic. As such, this study focuses on its impact on destinations to understand the changes in tourist perceptions, new trends in the sector and how Nation Brands can recover through research and data collection.
The other study was presented by the CEO and founder of Bloom Consulting, Jose Filipe Torres, on the City Nation Place webinar on May 27th, 2020. The webinar's guests included Rebecca Smith, Director of New Zealand Story, and Niall Gibbons, CEO of Tourism Ireland. The study aims to better understand the impact of this new virus on Nation Brands and on all of the dimensions of the Bloom Consulting Brand Wheel ©. We also set out to understand government's how crisis management has affected perceptions and brands themselves. You can also check its main takeaways here.
Conclusions of the Impact on Tourist Behaviours' Study
The spread of the new coronavirus has had a profound impact on our lives. It has not only affected health, but also the mobility of citizens that dropped to below half with mandatory confinement and the shift to large scale teleworking. Thanks to nationwide quarantines and state of emergencies in most affected Countries, travel was cancelled, and tourists were sent home.
Commercial flights plummeted by 80% with losses of up to $450 billion in worldwide tourism revenue. The damage to the economy will be extremely detrimental as we look ahead to a global loss of 195 million jobs in the second half of 2020.
Countries, Regions and Cities affected by the pandemic are facing these unprecedented challenges and more. They are joining efforts to find innovative solutions and strategies that will help them overcome these difficult times. This study highlights why we must look at this pandemic as an opportunity to adapt to a new normal and rebuild the tourism industry in a different way.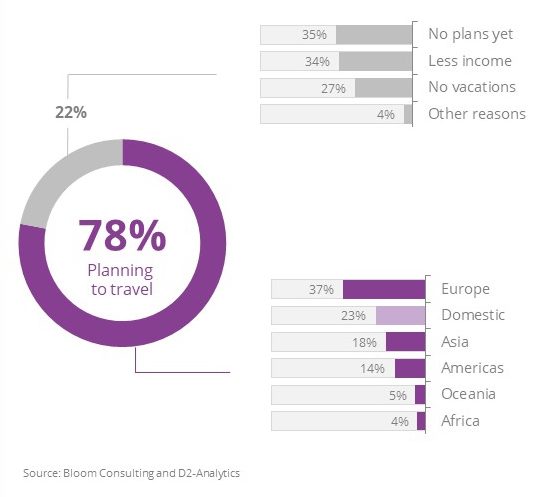 According to the study, 78% of respondents already had plans to travel for leisure in 2020 with 42% in the summer and 16% in the spring. Of the 22% who did not make plans, approximately one third (35%) would eventually travel and the rest planned to postpone for financial or personal reasons.
There were 37% of tourists that planned to go to Europe, while 18% had their hearts set on Asia and 14% on the Americas. Notably, 23% intended to take advantage of domestic tourism. Additionally, 54% of Bloom Consulting and D2-Analytics questionnaire respondents already had their vacation reservations. This shows that the tourism market was in full swing for 2020.
Once the pandemic was officially announced, the world stopped. Will tourist behaviours stay the same in a post Covid-19 world? When will they be ready to travel again and under what conditions?
To assess the new trends, Bloom Consulting included three possible scenarios in the questionnaires and the results were alarming.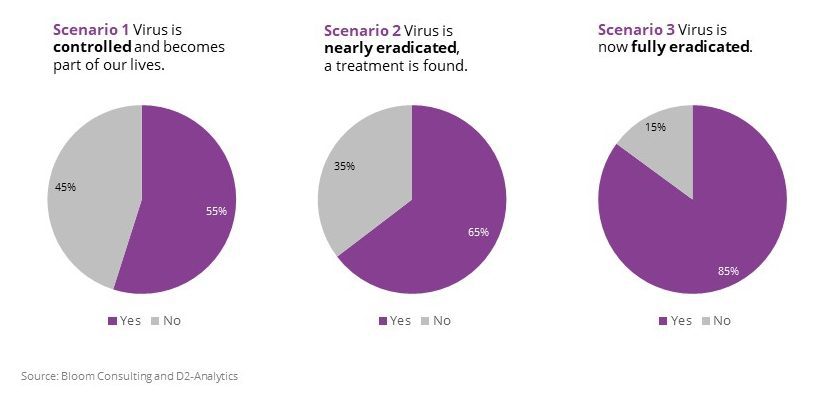 In the first scenario, the virus would be controlled, but, nonetheless, a part of our lives. Even without travel restrictions and the need for quarantine upon arrival at a chosen destination, 45% would still not be ready for a leisure trip. In the second scenario, the virus would almost be eradicated and there would be an existing treatment. Despite access to medication, 35% would choose to stay at home. In the third and final scenario, the virus would completely vanish. Nevertheless, 15% of tourists would not risk traveling.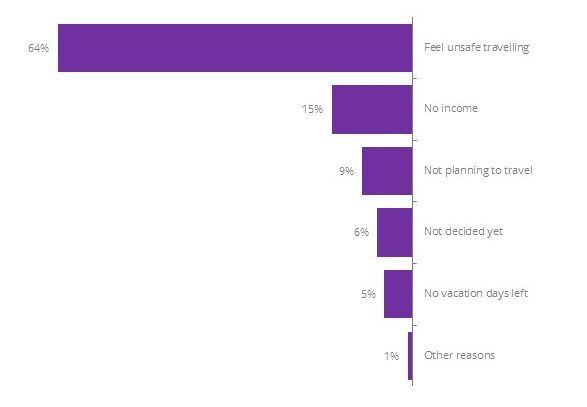 Even in the most ideal scenario with no more Covid-19, a key factor still keeps tourists from travelling – fear. For 64% of respondents, the fear of contracting the virus outweighs the desire to travel. This fear of safety will force destinations to rethink and redesign their entire business model to adapt to the arising needs and expectations of visitors. Bloom Consulting believes this dynamic will only be temporary.
What are tourist's new needs and expectations that destinations must respond to immediately?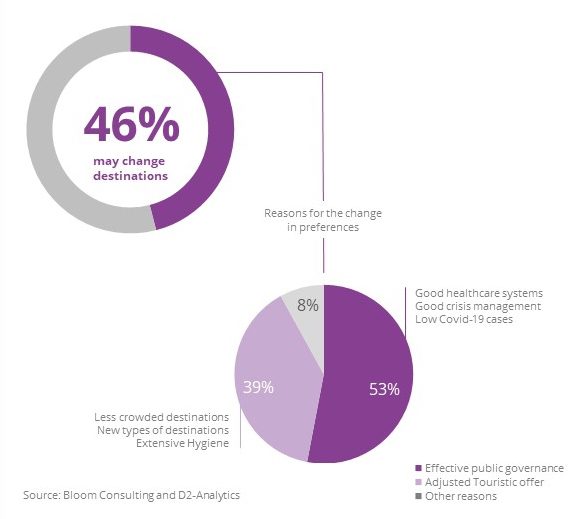 Almost half (46%) of respondents who will travel for leisure purposes indicate they will choose a destination other than the one originally planned/reserved prior to the Covid-19 outbreak. However, this study does not indicate that they will give priority to national destinations over international ones. There are other factors that weigh into this context.
According to the data collected, one of the conclusions was that adjusted tourism offers that reflect the new reality as well as effective governance are key indicators of a destination's appeal right now. In other words, if the global public perceives the government of a Country to have managed the crisis well and a secure health system, 53% of tourists' desire to visit the destination will be influenced in their favor. These destinations, however, must expect to make adjustments to their offers, based on their performance during the pandemic. 39% would like to enjoy less crowded or different destinations than accustomed to, with a good hygiene program.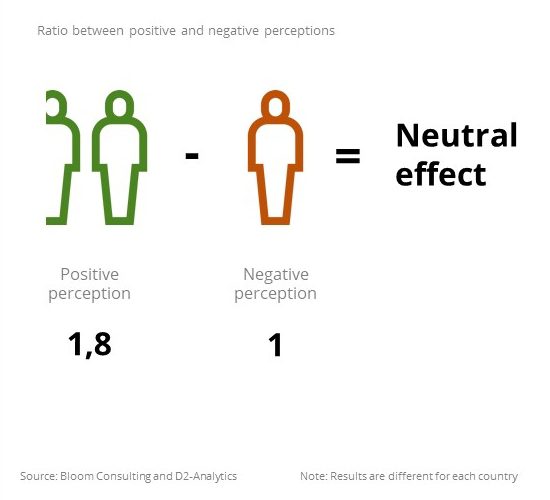 All of this indicates that DMOs and destinations should monitor their Brand Nought – B0. That is, the ratio between positive and negative perceptions of destinations based on the government's response to the crisis. The global B0 average of this Covid-19 crisis is -1.8, which means in order to neutralise 1 negative perception Countries need 1.8 positive perceptions. Nonetheless, each Country has a different Brand Nought due to its own reality of the crisis.    
Recommendations for destinations
Given the devastating effects on multiple levels, the crisis is not expected to be short lived. In the meantime, destinations and DMOs must develop tourist offers according to the new needs of tourists. Additionally, they must work with governments to establish a strategy that will ensure a good reputation for the Country.   
In order to help destinations in facing the consequences of the pandemic now and anticipate better management of future crises, Bloom Consulting has established four recommendations that organisations should incorporate into their structure.
These are some of the key strategies that can be used to tackle the challenges in changing the target audience's perceptions.
First – Avoid price competition. According to the study, 15% of respondents will not travel for leisure due to not enough room in their budget for doing so. Less crowded tourist destinations and a better healthcare system are tourist's main concerns. Therefore, destinations must avoid price competition as a distinguishing factor to attract tourists in the coming year.
Second – Redesign and redefine tourism. Tourist behaviours and preferences have changed. The product offer must be adapted to the new expectations and needs of the tourist. The brand strategy must ensure the destination is attractive and safe. Tourists will look for new destinations that have great hygiene programs and are less populated. This is an opportunity for smaller destinations to attract tourists as well, creating a balance in the sector and preventing crowds from gravitating towards the traditional places. Previous tourist strategies should also be reviewed, as they may have become obsolete. The goal is to ensure a sustainable and long-term approach to show the public that the destination is prepared for any unforeseen event.
Third – Broaden the scope of influence and data. Government action is at the heart of how destinations are perceived and plays a leading role in promoting them. DMOs must monitor and measure perceptions of government actions, activities and policies. These perceptions influence the preferences of tourists when choosing a destination. It is crucial to work together to include secure healthcare in their offers and inform concerned tourists as this will become increasingly valued. Governments and DMOs can start by evaluating their Brand Noughts and measure their digital identity to prevent any future damage, should other crises occur. The brand strategy should consider information and thorough data as the foundation for its immediate response.
Four – Plan the crisis management structure. It is essential that DMOs have a team or plan that is ready to adapt, analyse and respond to a new crisis. Overcoming fear and uncertainty will be the deciding factors for tourists when they choose to visit a Country or not.